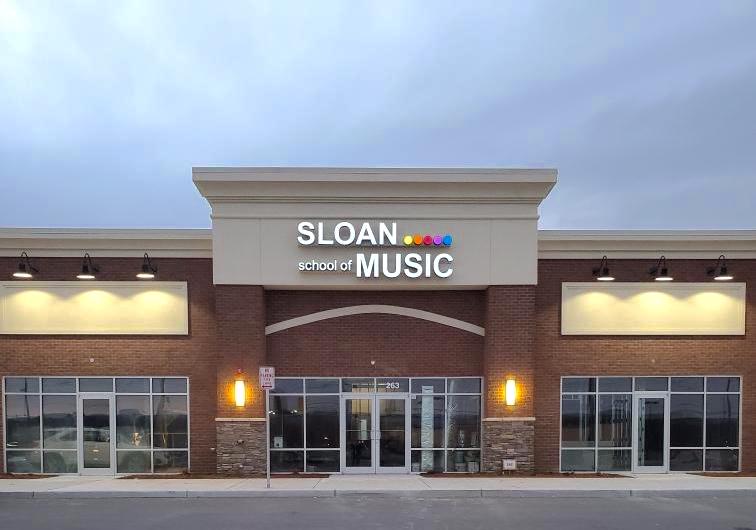 Experience Music Rethought
Welcome to Sloan School of Music! Our mission is to bring music and music education to everyone who wants it. Founded in 2019 by a group of teachers and one corporate executive obsessed with music, we offer a state-of-the-art, modern lesson, retail, and performance facility run by experienced and knowledgeable teachers and staff. We are committed to the growth and good of our customers and our community. Discover how music can enhance your life with the Sloan School of Music!
We are a company founded by teachers who want to give as much to their students as music has given to them. We aim to deliver an experience that connects people to the world of music and creates personal value through artistic expression, joy, and academic success. Check out our core values:
At Sloan School of Music, we see students' families, and not just the student, as the customer. We have gone to great lengths to make sure everyone's experiences here at SSoM are safe, comfortable, high energy, and inspiring! What that means is our store environment is brightly lit, well ventilated, cleaned multiple times per day, and is stocked with wi-fi, power outlets with USB charging ports, comfortable modern furniture, and a fridge with free beverages! Did we mention the high-end home theater system with projector, gaming system, and authentic signed memorabilia adorning the walls? Welcome to your new favorite music store!
CONTRIBUTION TO COMMUNITY
It is important to us here at SSoM to walk the walk, and not just talk the talk of doing good and helping others. We want to utilize our connections in our local areas to bring more music, to more people, all of the time! We also will be developing a music lesson tuition scholarship fund to help more people get into private lessons for longer.
To put it plainly and simply, we have extremely high standards as to what constitutes a great customer service experience. Our staff and teachers are current with product knowledge and systems, and trained to put people first before profits. We guarantee the highest levels of service and positive experience from beginning to end with whatever your musical needs are, from someone just coming by to purchase some guitar strings or drum sticks, to someone purchasing a lifetime guitar and taking years of lessons. We are here to help, listen, and add value to your musical journey!
Respect and integrity are two things missing from too many businesses these days. At SSoM, we mean to do right by people every time, every day. What that translates to is staff that is knowledgeable and not pushy, pricing that is competitive, and policies that put people's needs and happiness first.
EMPLOYEE GROWTH & ENJOYMENT
SSoM aims to be an employer of choice for both teachers and staff. We wish to foster a company culture of positivity and support with growth opportunities for people who want them. It is our firm belief that this positive employment experience translates to a great experience for customers who interact with those employees, which develops long term relationships with our customers and lesson families.
INTERESTED IN TEACHING AT SLOAN?
TEACH WITH SLOAN SCHOOL OF MUSIC.