Learn to play the piano from expert teachers for the best instruction, guaranteed.
Offering Both In-Person and Virtual Piano Lessons!
In-Person Piano Lessons in Maryland
(Virtual Lessons Available)
Music gives us a direct way to communicate our emotions, bypassing words and logic, which can slow us down. Playing piano helps students tap into the universal language of music that everyone can hear and feel. A student who learns how to play piano has potential to keep learning new things, appreciating different kinds of music, and experimenting with other creative abilities he or she might have. Embarking on a piano-playing adventure could be the beginning of an amazing life that includes music and extends beyond to other enterprises.
The Piano is Great for Beginners
If you or your child wants to begin music lessons, but you don't know where to start, consider beginning with the piano. In piano lessons, you:
A Brief History of the Piano
Pianos are unique in the world of music, as they can fit into three different categories: string, percussion, or keyboard instrument. They are stringed instruments because of the strings that produce the sound. They're percussion because the hammers that strike the strings produce the sound, but also keyboard instruments because the player's fingers and thumbs press the keys to cause the hammers to strike the strings. 
Pianos evolved from another similar instrument: the harpsichord. Italian Bartolomeo Cristofori invented the piano in the year 1700. He wanted to improve the harpsichord with more control over the volume of the notes. The piano's first name was "clavicembalo col piano e forte," which translates to "a harpsichord that can play loud or soft notes." It eventually evolved from being too large and heavy to transport easily. Artists now readily find pianos in schools, music halls, and other venues worldwide because of their immense popularity.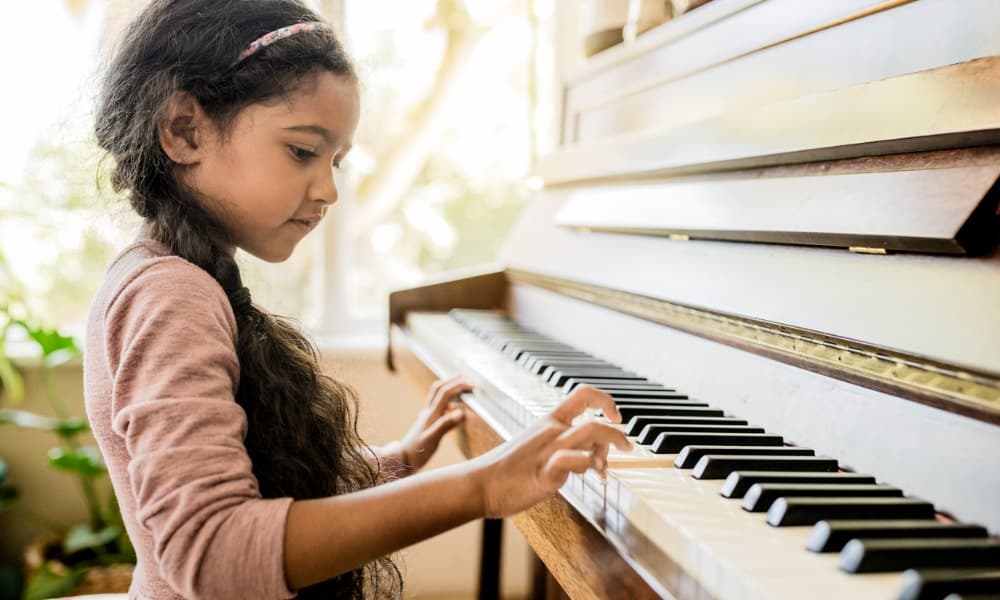 There are many kinds of pianos, with some better suited for concert halls and others common in schools and classrooms. The types of pianos students are likely to encounter in their lessons include:

Acoustic Pianos
Many players consider this to have the best sound of all pianos. The wood and strings create a rich, beautiful sound. Acoustic pianos come in two types: Grand and upright. Grand pianos are what concert pianists typically use. Uprights are designed to fit more comfortably in homes or classrooms. They're also the most expensive kind of piano. 
Digital Pianos
A digital piano is a more inexpensive option for beginners. They mimic the weighted feel and pressure of the keys, so players get the same tactile experience playing them. No strings are included in digital pianos, resulting in a sound that's not as rich. A good digital piano can come close to matching the overall look and feel of an acoustic piano. 
Electronic Keyboards 
This instrument is the least expensive option. It does not have strings, and it produces all sound electronically. A big difference in electronic keyboards is the number of keys – you can find units with 49 or 61 keys easily. Instruments with 88 keys are also available for those who want to simulate a full-size piano. These units don't have the same pressure sensitivity as digital pianos, but they're a good, inexpensive option to begin learning the basics. 
The Benefits of Piano Lessons at the Sloan School of Music
The instructors and staff at the Sloan School of Music understand the benefits of learning music. Lessons help with overall brain health, including:
Improving memory and spatial learning

Reading comprehension and literacy

Stimulating creativity

Teaching time management and discipline

Prevent hearing and memory loss later in life
Our instructors will be able to give you more thorough guidance when you take live, in-person lessons. They'll be able to monitor your progress, spot any techniques that need adjusting, and help you improve much faster. They also offer lessons for beginners, experts, and everyone in between. You can choose from private lessons and group classes, depending on your comfort level. 
Start your journey with the piano or improve your existing performing ability by contacting us for help.
Frequently Asked Questions About Piano Lessons
Starting private lessons is an exciting time in anyone's life, but we understand you may have questions, especially if you or your child is new to learning a musical instrument. Here are answers to some we hear often.
How Can I Get the Most Out of My Piano Lessons?
The most important thing you can do is adopt a positive mindset through the following steps:
Look at Your Lessons as a Journey
Part of the fun of playing the piano is watching your progress. Beginners will learn to get used to the feel of the keys, reading music, and other fun skills. Soon you'll be moving on to more complicated pieces. Becoming a master pianist won't happen overnight, but you'll be able to enjoy your improvements.
Stick to Your Lesson Schedule
Most people who start music lessons want to see progress quickly. They want to feel that sense of pride and accomplishment from playing beautiful music. Make your lessons a priority once you've set a schedule. 
Set a Regular Practice Schedule
Playing the piano is fun and rewarding. Those who schedule consistent practice time and stick to it will progress faster compared to haphazard or occasional sessions.
Determine Where You Will Practice
Figure out your options for a practice place. Can you practice at a school? Is there a piano at your local church? Renting an instrument is also an option – plan for regular practice sessions to make the most of your lessons.
Many music students soon come to look forward to lessons and practice. Making music becomes a wonderful addiction that can last your entire life.
How Young Can My Child Start Piano Lessons?
Children as young as 6 years old can start taking piano lessons. Children younger than that often have difficulty due to their developing motor and concentration skills.

I'm an Adult. Is It Too Late for Me to Learn the Piano?
It's never too late to learn the piano! Commit to putting in practice consistently each week, and you'll be able to advance your skills and enjoy creating beautiful music.
What Will I Learn During My Piano Lessons?
The passionate instructors at Sloan School of Music have a lot to teach you. You'll learn:

How to read music 

Rhythm 

Notes and chords 

How to practice  

Ear and memory training  

Effective performance skills   

Music theory



Students also gain valuable life skills such as perseverance, patience, and how to work on their own.
How Long Should I Practice?
Consistency is key with practice. Dedicated students will see more progress if they commit to 30 to 40 minutes of practice five or six days a week.
How Often Should I Take Lessons?
Weekly lessons will give you the best results. Every other week will work if that fits your schedule, but your progress may be slower.  
Private Piano Lessons Open a World of Possibilities
Whether you are 5 or 85, private piano lessons at SSoM can open up opportunities you never dreamed of before. Touching a piano key is a simple thing for a finger to do. When you learn how to read music notes and apply that knowledge to the piano, the simple act of touching a piano key transforms into a beautiful method of communication.
You can play piano for yourself, as a form of music therapy. Music allows you to release emotions, process difficult experiences, and express things you can't express any other way.
You can also play piano for other people, building community and expressing yourself to others. It helps you develop social skills as well as communication skills that extend beyond the keyboard. We encourage our students to make a positive impact on our community with their piano playing skills. This can be done through recitals, virtual showcases of your skill, and playing for a group wherever you are. Eventually, when your skills improve, you can play for organizations and at special events. Pianos are common instruments to accompany singers, and you may find that you enjoy singing while you play.
DISCOVER NEW CULTURES THROUGH PLAYING THE PIANO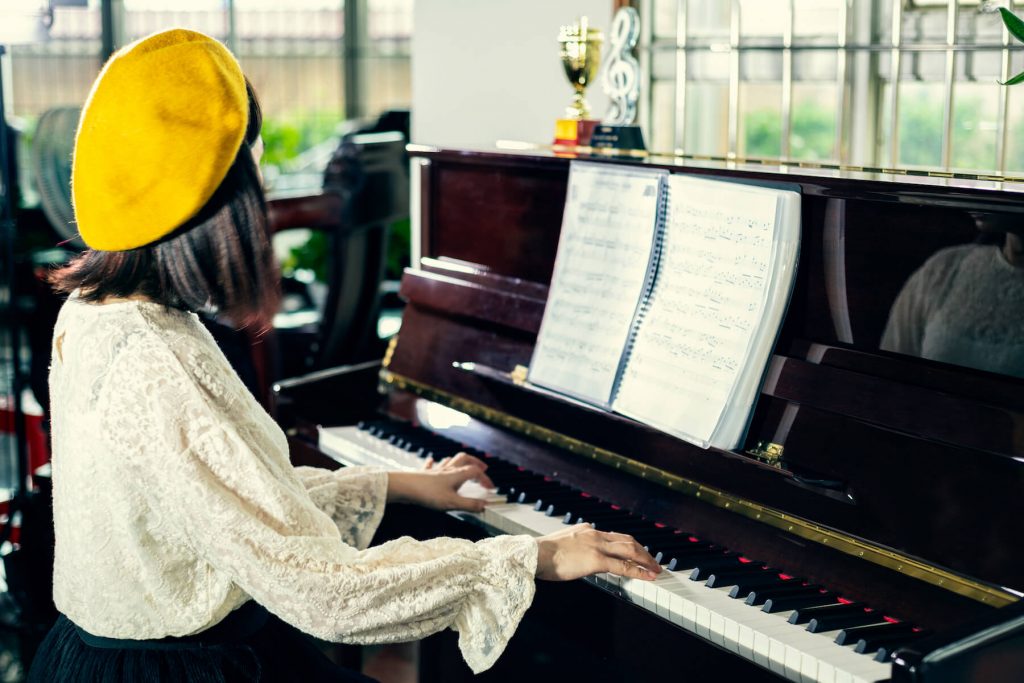 When you learn to play piano, you open yourself to the world of music. During your lessons, you will be exposed to many genres of music, from classical to contemporary. Some of the music will be from different cultures, and you will learn to hear how different groups of people express themselves musically. This world of music begins while you are sitting at the piano, and it opens up into other areas of your life, even long after you are finished with your lessons.
Piano Lessons at 2 Convenient Maryland Locations
The Sloan School of Music offers two easy-to-find locations in Hagerstown, MD or Urbana, MD. Our friendly, expert staff at either will be happy to give you a tour of our facilities, answer any questions you have, and get you started with your exciting piano lessons.
Why Choose the Sloan School of Music for Your Piano Lessons?
Our instructors have extensive training and experience and excel at imparting their knowledge to our students. Other reasons to consider the Sloan School of Music for your piano lessons include:
Full-Service Facilities
We're about more than just one-on-one lessons. We also offer band programs and group classes, all under one convenient roof. Our facilities feature a modern, clean, comfortable waiting area with free WI-FI.
Quality Instruments for Use or Purchase
You'll be taught using only the best equipment to improve your progress. Our staff members are also teachers, and they only recommend quality brands they use for themselves. They can also help you understand the differences between beginning and professional equipment.
LEARN THE PIANO FROM OUR EXPERIENCED INSTRUCTORS
Our piano instructors expertly instruct you in piano playing skills that will help develop your coordination, fine motor skills, listening skills, concentration, self-discipline, and much more. Piano lessons build a musical foundation that you can grow from in infinite directions. Sloan School of Music offers private piano lessons, virtually and in-person, seven days a week.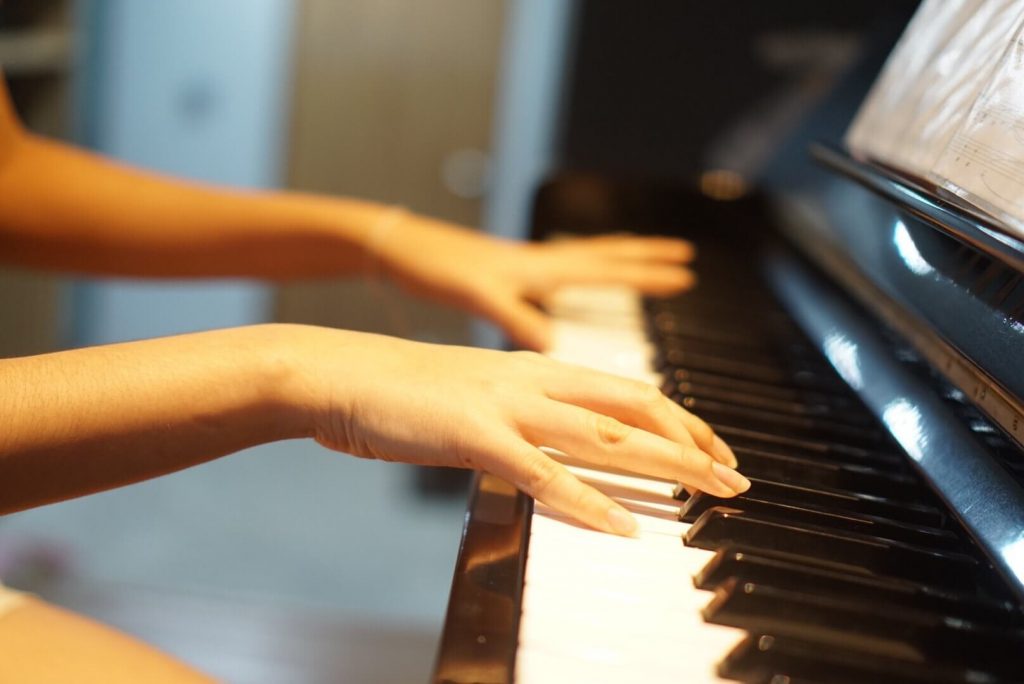 If you're considering piano lessons for you or your child, call Sloan School of Music today. Our knowledgeable staff will answer all of your questions and match you with one of our expert instructors. Learn more about our teachers below.
Taryn Leonard is a native of Hagerstown. She began learning piano at the age of four and by age sixteen
See More »
Danny Davis is a graduate of Peabody Conservatory of Music in Baltimore MD 1977 with a Performance Degree in Cello
See More »
Tyler Joyce is an experienced guitar instructor with over 10 years of teaching.  He studied music performance at Towson University
See More »