Sloan School of Music is proud to offer several EVH Guitars products in our music store, helping budding and experienced guitarists of all ages find the items they need to keep rocking. Speak with our music experts to find the right gear for you.
EVH Guitars are the ultimate culmination of Eddie Van Halen's decades of work both on and off stage. His name is synonymous with revolutionary electric guitar playing. He was not only one of the world's most talented guitarists, but also designed his own — and modified his amps — to create unique sounds that others worldwide have been emulating since.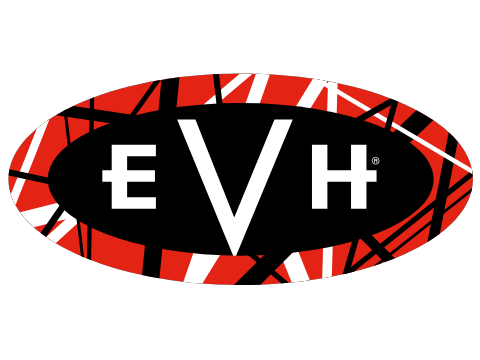 EVH Guitars Products in the Sloan School of Music Store
Sloan School of Music is proud to carry several EVH Guitars products in our music store. Our instructors and staff are committed to providing students and customers with high-quality products to help them reach their musical goals. Our portfolio of EVH products includes:

Eddie's classic Frankenstein is recognizable to any electric guitar fan, and for good reason. The iconic red Stratocaster design with black and white stripes has been beautifully and affordably reproduced in EVH's Striped Series Frankenstein. It boasts:
Basswood Stratocaster Body with Classic Red, Black, and White Stripes

Reinforced Quartersawn Maple Neck Reinforced with Granite

12″-16″ Maple Fingerboard

22 Jumbo Frets

HSS Pickup 

Humbucker Bridge Pickup, Dummy Neck Pickup, 5-Blade Dummy Middle Pickup

Floyd Rose Locking Trem and Locking Nut

D-Tuna Tremolo
Complete with a basswood body and oil-finished quartersawn maple neck reinforced with granite, the Frankenstein offers versatility and comfort with a basswood body, oil-finished granite-reinforced maple neck, 12″-16″ maple fingerboard and easy-to-traverse jumbo frets.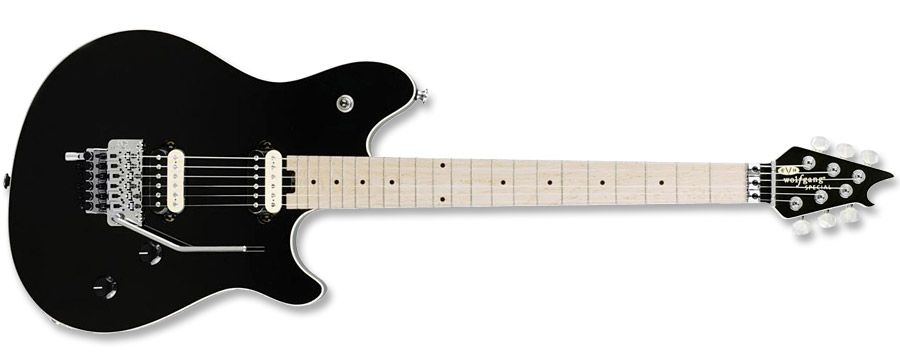 The Wolfgang Special is ideal for guitarists. Designed for comfortable play, fast runs, and huge sound, this gorgeous guitar is a must-have for musicians looking for that classic Eddie Van Halen sound for every performance. It features:
Basswood Body with Arched Top

Graphite-Reinforced Quartersawn Maple Neck

12″-16″ Ebony Fingerboard

22 Jumbo Frets 

Spoke Wheel for Truss Rod Adjustments

Custom Designed Wolfgang Alnico 2 Humbuckers

Floyd Rose Locking Trem and Locking Nut

D-Tuna Tremolo

500K EVH Bourns Low-Friction Treble Bleed Circuit

250K Bournes High-Friction Tone Control

Available in Stealth Black, Burgundy Mist Metallic, Satin Primer Gray, Ice Blue Metallic, Deep Purple Metallic, and Ivory
Great for everything from small venues to arena concerts, the Wolfgang special features an arched basswood body with a graphite-reinforced bolt-on maple neck, manufactured to Eddie's rigorous specifications.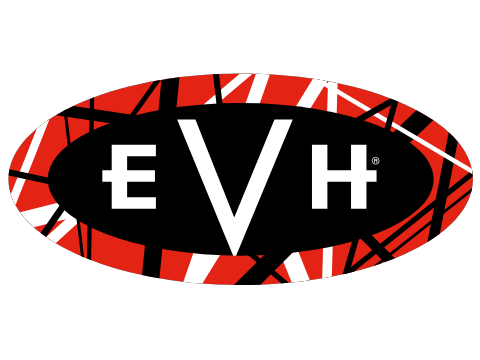 The EVH 5150 III Stealth Head is a lot of power in a small package. Get all the sound you could ask for from this compact 50-watt 3-channel guitar head with 6L6 power tubes. With three modified channels, you can get clean, clear tones for complex rhythms, crunchy shred tones, and bright leads for flaming solos. It offers:
50-Watt Compact Guitar Head

6L6 Power Tubes

Resonance Control 

Channel 1 and 2 Feature 3-Band EQ

Independent Channel 3 EQ

Bright, Clean Channel 1

Increased Gain for Channel 2

Liquid Gain for Channel 3

Independent Gain and Volume Controls for Channels 1 and 2

Integrative Effects Loop 

Headphone Jack, Parallel Speaker Output Jacks and Line Output, Rear Panel Bias Port

Adjustable Impedance of 4, 8, and 16 ohms

MIDI-Compatible 4-Button Foot Switch with 1/4″ Input Jack
The 5150 III Stealth gives you all the tone and volume of a full-size amp in a convenient portable package.
Eddie's forays into the world of hard rock began in 1978 when he partnered with his brother to create the iconic band Van Halen. His passion for pushing the boundaries of guitar music as the world knows it didn't stop there, though. A few facts:
In the 1980s, Eddie began partnering with quality guitar brands like Peavey and Fender to produce cutting-edge electric guitars to keep up with the evolving world of electric guitar.
From 1980 to 2000, his signature style drove the development of Superstrat guitars with humbuckers and modified amps to reproduce his unique sound. 

He began working with Charvel, a subsidiary of Fender, to create guitars that matched his specs and famous color designs.

This produced the EVH/Fender Frankenstein Replica, an exact copy of his iconic black, red, and white-striped Frankenstein electric guitar. 

It was an immediate hit, and gave rise to the EVH brand, established in 2006.

EVH has been popular with players at every skill level since hitting the market over a decade ago. 

It offers a host of top-quality guitars, from the approachable Wolfgang Standard to the affordable replica version of Eddie's famous Frankenstein Guitar. 
A guitarist is only as good as their gear, and EVH supplements its selection of guitars with a range of high-gain amplifiers and the 5150 Stealth Head to help you replicate the sound of the legend himself. Available in numerous head variations and wattages, these amplifiers are great for everything from small practice rooms to all-out gigs.