If you want truly amazing sound coming from your amps, you can't go wrong with Spectraflex guitar cables and accessories. The brand is known for its commitment to excellence, and has been providing quality products to musicians of all ages and skill levels for years. Spectraflex creates braided cables utilizing state-of-the-art construction, and the company's attention to detail means your music will sound great for years to come.
Sloan School of Music proudly partners with numerous brands that have proven their dedication to musicians and their craft, and Spectraflex is one of them. Our storefront offers many of its products in a variety of colors and styles. With Sloan and Spectraflex, your music is guaranteed to rattle the roof!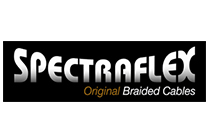 Founded more than 30 years ago, Spectraflex is the premium purveyor of the "Original Braided Cables" that are known and loved by high-profile musicians and artists from every genre. All of its braided cables are designed to provide superior frequency response and ultra low-handling noise. It also features options for everyone, from newbies who want to rock out in their basements in style to onstage veterans who will accept nothing but top-level gear.
Spectraflex is made in the USA by talented artisans, and its products are crafted to help musicians excel. The brand continues to innovate, too, creating new products and updating existing models year after year. Artists all over the world know and love its catalog.
Spectraflex is a company that isn't content to rest on its laurels, and is constantly innovating and creating. Many of the top artists in the industry love the brand — including Fluff, Garry Nutt, Ivan Anderson, and Rob Carlton — choose only Spectraflex braided cables for their shows. They have all partnered with Spectraflex, standing by the quality and durability of the products.
If you're looking for the perfect braided cables for your in-home or on-the-road set-up, our music experts are here to be your guides. The instructors and professionals at Sloan School of Music are well-versed in how to choose products that fit their students and customers' needs, and are all ready to help you find the Spectraflex piece that will perfectly complement your needs.
Contact Sloan School of Music today to speak with an expert about any questions you might have about Spectraflex products, or for more information about signing up for private or group music lessons.